Let There Be Light Illuminated PVCC
Skye Scott, assistant editor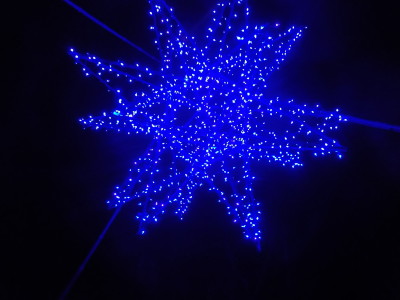 The first visible art piece for anyone attending Let There Be Light on Friday, Dec. 8, was a light beam that seemed to reach all the way to the sky. Actually, this piece was visible for people just driving on the highway, with no intention of stopping for Let There Be Light.
Let There Be Light is an annual light art exhibit that PVCC's Professor of Art Beryl Solla hosts each year. The exhibit "celebrates the approach of winter solstice and the longest night of the year with light-based art installations," according to the Let There Be Light Facebook Event page.
Art pieces were made by PVCC faculty and students, as well as an exhibit by students at Murray High School. Some pieces were interactive, although most of them were simply pretty to look at. One interactive piece contained a large screen with a picture that changed when shone on with a flashlight.
There seemed to be a slightly fairytale theme among a few of the art installations. The Murray High School Students created colorful flowers that light up. One unique installation was where the artist took one of PVCC's drain pipes and made it appear as if glowing rocks were falling out of it. Another aspect that added to the magic of the night was small lights that lit up the main paths between each installation.
Hot apple cider, hot chocolate, and different types of bread were provided in the V. Earl Dickinson building.
According to the Facebook event page, people were encouraged to dress as "enlightened beings." Many people did just that, with lights wrapped around hats, sweaters, and shoes. Whether shrouded in light or not, everyone seemed to enjoy the light shows.
Short URL: http://www.piedmontforum.com/?p=32724
Posted by
Skye Scott, assistant editor
on Jan 25 2018. Filed under
Arts & Entertainment
,
Events
,
From the Forum
. You can follow any responses to this entry through the
RSS 2.0
. Responses are currently closed, but you can trackback from your own site.