PVCC Comes Together to Help Puerto Rico Recover
Teriney Grooms, staff writer
With the most active hurricane season on record drawing to a destructive close, it is hard not to feel the effect of those hurt the most in the violent storms. Puerto Rico, a United States territory since 1898, suffered the most damage first by Hurricane Irma and then by the even more devastating Hurricane Maria. The two storms completely wrecked the island, ripping homes apart, destroying power lines, and pulling up roads that connected to the island's interior. Yet, it seem some have found it hard to feel sympathetic for the small island territory, because they have never felt nor witnessed this much devastation.
Diane Valade is a professor of Mathematics at PVCC with a big heart, and from Oct. 16-19 she headed the Puerto Rico Disaster Relief fundraiser. Over the weeklong event, students and staff took part in contests and activities such as "throw a pie at a professor," participate in a silent auction, or tie-dye a shirt. All to raise money for Puerto Rico.
Valade is not of Puerto Rican heritage, but she sympathizes with the island natives because in 1988, when category 5 Hurricane Gilbert slammed Jamaica, Diane Valade was on the island.
What concerned Valade the most was the islanders' inability to get clean water. Valade said, "If they can't get clean water, then they can't start rebuilding."
Valade's goal for the week was to reach $1000 to donate to Puerto Ricans, but halfway through the week, the fundraiser had already made over $2400. Valade partnered with UNICEF-USA, and all $3,130.01 raised went to providing 100 Puerto Rican families with kits that contained items such as water purifiers, soap, and toothpaste.
When asked about the remarks between President Trump and the Mayor of San Juan Carmen Yulin Cruz, Valade said, "I didn't want to politicize the event. I have been trying really hard to keep this a people helping people event…regardless of who is president."
Valade's overall message to Puerto Ricans is "We care about you, and we haven't forgotten about you."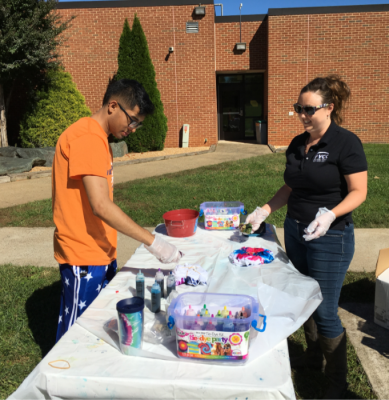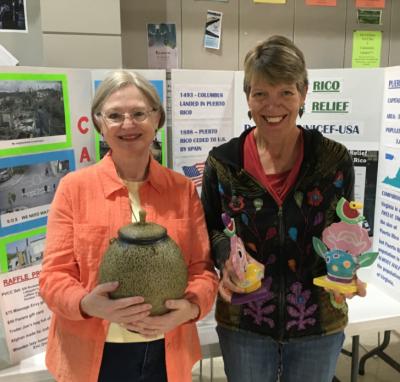 Short URL: http://www.piedmontforum.com/?p=32539
Posted by
Teriney Grooms
on Nov 6 2017. Filed under
Campus News
,
Events
,
From the Forum
,
Fun
,
News
. You can follow any responses to this entry through the
RSS 2.0
. Both comments and pings are currently closed.