Romeo and Juliet, A Classic Reimagined
Isaac Rowlingson, staff writer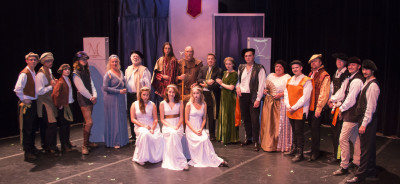 The Maxwell Theatre (Black Box Theatre) at PVCC carries the tradition of the intimate environment that has portrayed "Romeo and Juliet" as well as Shakespeare's other plays so honestly for centuries. The audience sat tight on Friday, Oct. 27, packed into three rows of inclined seating. With relatively little room for set design, the set pieces worked together both efficiently and effectively for their purposes. This made for a dynamic performance, using the whole theatre as the stage which made the audience feel both transparent and intensely part of the action.
Next to me was a man holding a gold plated cane with his head leaned back like a connoisseur of sorts. Under his tan pinch-front fedora, he occasionally remarked different inflections of "Hmm-hmm" while nodding his tilted head. Other people came in families, friend groups, couples, in support of particular actors, or to watch by themselves, but all of them left feeling entertained and an immense satisfaction.
As the room darkened between the scenes, one could hear gliding curtains, shifting set designs, and could dimly see the comedic and dreamlike stage changes. These portrayals would go back and forth much like the banter and dialogue that makes Shakespeare's plays great. With wordplay such as "the dreamers often lie," one is immediately sucked into the flowing language and transfixed on the strikingly poetic content.
This content was further expressed by colorful combinations of physical interpretation and dramatized speech. These exaggerated crawls, jumps, and stretches of both body and voice enhanced the experience immensely. The dialogue seemed mercurial itself, sometimes coming from afar like distant wind and other times landing unexpectedly like a swift punch in the face. One must be constantly on guard, waiting and watching for the next blow.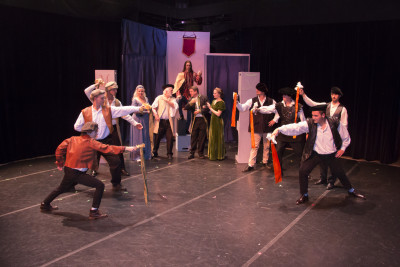 Underneath the sound of loud footsteps, the Montagues and Capulets feuded with colorful rippling swords made of cloth. Their jovial hats, masks of modesty, pompous peacock-ery of leaves and feathers, and primitive systems of attraction ironically countered the strict familial arrangements Romeo and Juliet were trying to transgress. Romeo looked past this herd of people towards the soft flesh of his true love. He reached her through the crowd of clasped-handed dancers and their lips began to pray together. Both were fighting to be themselves in a world full of misunderstanding that hath cursed them into their misbegotten roles.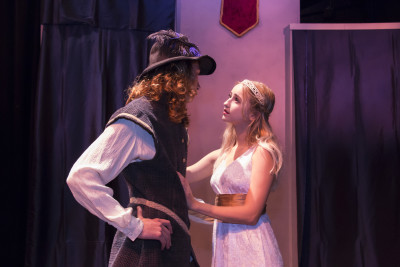 As Juliet stood atop her balcony, Romeo gazed from afar into her radiant beauty. Juliet, his sun, cast her passionate rays across his wayward sky as he heeded her call like a warrior going into battle. Later, a confrontation proceeded and Romeo's friend Mercutio was slain by Juliet's cousin Tybalt. As dubstep blared from the speakers, the Friar watched the conflict from his balcony and tightly clutched his cross.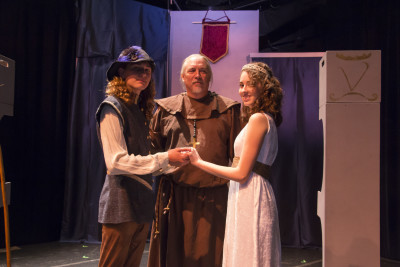 The next time Tybalt arrived, the audience was treated to a scene where Romeo shanked him dead in the chest. Romeo yelled upward, "I am fortune's fool!" as he began to bare the gravity of the course of events which eventually led to his banishment. All the while, Juliet was being forced into a marriage she had no desire for and was caught between the betrayal of her heritage and her sacrifice for true love. The audience witnessed them churning from within as they tried to process their crisis' in the midst of the tumultuous roaring waves of their hearts.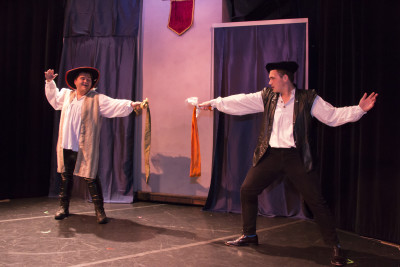 After one of the most tragic turning of events in all of literature, the audience was forced into a somber sympathy both familiar and defamiliarizing. The entrancing effect of Romeo and Juliet is one that is hard to match and was showcased well by the partaking actors and actresses from PVCC and the surrounding area. It was both modern and classic, both reinterpreting some key elements and paying homage to the original concepts of the master of all dramatists. Most importantly, the play felt larger than the room that contained it.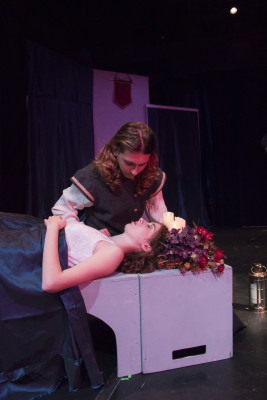 In the end, nearly all of the family heirs have perished. This leaves the audience to wonder, 'was it by their own doing? or, was it by the poisonous feud and expectations thrust upon them?' All those who survived were left to receive punishment for their corruption. However, just as with Romeo and Juliet, the punishments were nothing compared to the crushing blow of loss. "Who has really died in the end?" I asked myself, "a mortal feud or an immortal love?"
Short URL: http://www.piedmontforum.com/?p=32526
Posted by
Isaac Rowlingson, staff writer
on Nov 3 2017. Filed under
Arts & Entertainment
,
Events
,
Opinion
,
Reviews
. You can follow any responses to this entry through the
RSS 2.0
. Both comments and pings are currently closed.