Review: Lampo Neapolitan Pizza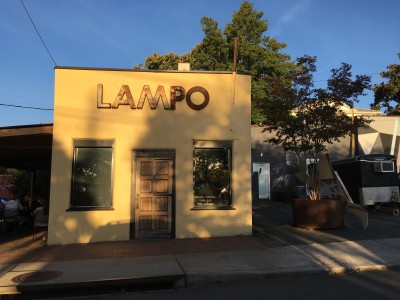 Jeff Jones, staff writer
In the past ten years, Belmont has become the new hot spot in Charlottesville hosting some of the area's best restaurants. In that time, Mas, The Local and Tavola have become staples within Charlottesville residents' diets. However, after only a few years in business, Lampo has awed the taste buds of Charlottesville's foodie elites. This quaint Neapolitan pizzeria is comfortably nestled between Belmont and the Charlottesville Downtown Mall, and while the building does not look like much, the food begs to differ.
One important thing, Lampo does not take reservations.
My date and I arrived at Lampo around 7:30 p.m. on a Friday night. We were both expecting a wait, and that is exactly what we got. After taking our names, the host let us know it would be about forty-five minutes, but we were determined. Luckily Lampo has two seating areas for waiting patrons, one inside and one outside. It was a beautiful night, so my date and I decided to wait outside.
While a 45 minute wait was not particularly desirable, the atmosphere was incredible, and we were able to order a bottle of wine, which helped pass the time quite nicely. We had waited for closer to an hour when we finally sat down, and we were both ravenous. Luckily, we had our menu, and within seconds a waitress was at our table. We decided to order another bottle of wine along with the specialty appetizer, which was similar to a potato au gratin. By the time our potatoes made it to the table, we had decided on our pizzas: the Funghi, topped with mushrooms, garlic and plenty of cheese, and the Prosciutto topped with prosciutto, arugula and plenty of cheese. The potatoes were life changing. My date and I could not decide whether it was because they were actually delicious or we were just starving, but I still dream of that first bite to this day.  Needless to say, the potatoes were gone in seconds, and we were left craving more.
Luckily for us, the pizzas came out quickly. What arrived at our table was nothing short of art. The two pizzas seemed to have a cartoon-like aroma that whispered in your ear, tempting you to eat them. And while I was tempted to inhale each and every slice of pizza, I could not bring myself to do it.
In fact, after almost every bite I needed to set my slice down just so I could focus on enjoying the bite in my mouth. My date was no different, stopping and grabbing my arm to let me know how good each bite was.
At last the night was over and the check came to the table. While I thought about the hour-long wait we had to endure, I was ever so tempted not to leave a good tip; however, when I considered the service, wine and quality of the food, I could not blame this small nine-tabled restaurant for being so crowded, and again, the service was absolutely amazing.
Short URL: http://www.piedmontforum.com/?p=32510
Posted by
Jeff Jones, staff writer
on Oct 16 2017. Filed under
From the Forum
,
Reviews
. You can follow any responses to this entry through the
RSS 2.0
. Both comments and pings are currently closed.