Queen City Mischief and Magic
Callista Bandy, staff writer
Staunton, Virginia, is a city like any other in the valley with restaurants, entertainment, and family owned stores. However, as of last year towards the end of September, Staunton transformed into a Harry Potter fans dream. Last year, the festivities (then known as Queen City Potter Party) were only one day, but this year the celebration was extended to a whole weekend. Starting at 5 p.m. on Friday Sept. 22  and ending the same time on Sunday Sept. 24.
For three days, over seventy businesses in Staunton took on the names of Harry Potter stores and restaurants, both official and fan-made.
Potions classes were held at the notorious Borgin and Burke's (Redwood & Co.), while people went on scavenger hunts around the Weasley's family home, The Burrow (Warehouse Miniatures), and enjoyed food and butterbeer at The Three Broomsticks (Baja Bean).
The pinnacle events of the weekend were the championship quidditch game and lifesize wizard chess match. Gryffindor dominated the quidditch field on Friday by soundly beating the Slytherin team in their first match followed by a close game with the Hufflepuff team, the winners of their match against Ravenclaw. The games of wizard chess produced two winners with Gryffindor beating Slytherin on Saturday and Ravenclaw easily taking the match against Hufflepuff on Sunday.
Along with all of the events going on, there were plenty of photo opportunities as well. Pictures could be taken with teachers such as Headmaster Dumbledore, Professor Mcgonagall, Hagrid, and former teacher Gilderoy Lockhart (who will warn you that his beauty may break your camera). Pictures could also be taken in The Chamber of Secrets with the basilisk or even with the founders of Hogwarts themselves.
While this celebration is only in its second year, many predict that it will continue to grow as more shops join in and more people come. Many stores had maps where one could place a pin on where they were coming from. People were coming from as close as Charlottesville and Harrisonburg, to as far away as South Korea, Peru, Iran, Russia, and many European countries.
After  the festivities end, the banners, signs, and the magic are put away, life returns back to normal for the residents of Staunton. That is, until next year, when they dust off the signs, grab their wands, and the magic re-enters the air.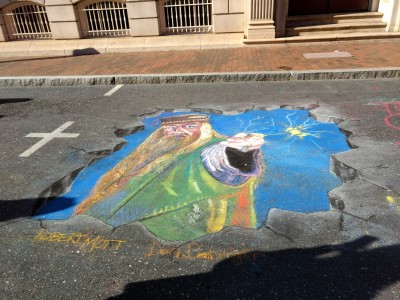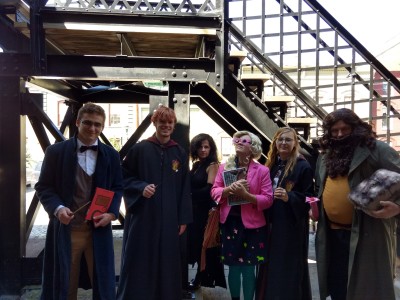 Short URL: http://www.piedmontforum.com/?p=32436
Posted by
Callista Bandy, staff writer
on Oct 10 2017. Filed under
Arts & Entertainment
,
Events
,
From the Forum
. You can follow any responses to this entry through the
RSS 2.0
. Both comments and pings are currently closed.