Calligraphy Performance and Workshop
Charles Stish, assistant editor
On Sept. 7 at 7 p.m., PVCC's Main Building reverberated with soft, melodious music comprised of drums, a piano, and voices singing in Japanese. Anyone intrigued by this musical composition and curious about its origins would have followed the music to the North Hall Meeting Room, where PVCC's Japan club hosted their calligraphy workshop, where professional Japanese calligraphist Miyuki Kawane gave her special calligraphy performance.
During the first ten minutes of the event, Kawane performed her professional speciality of writing out the lyrics of songs in Japanese as she listens to them. Although Kawane has visited PVCC twice before, she did not perform to a traditional Japanese song as she usually does. Instead she performed to Japan Club's theme song titled "Room 174," the room where Japan Club's meetings are held in PVCC's Main Building.
The song was composed last Spring semester by Japan club members with Alec Traaseth on drums, Julianne Suarez writing the lyrics and being backup vocals, Joe Chey on piano, current club president Nicole Rodgers as lead vocals and creating the musical notations, and the club's advisor, Adjunct Instructor of Japanese Noriko Donahue, translating the lyrics to Japanese and being another backup vocal. The song itself is about the bonds, memories, and friendships the club members made between themselves. Part of it reads,"Like stars in the sky bathing darkness in the light. One time, one meeting. I hope we meet again. My stars, my friends." Donahue said, "I want the students to create." She and Rodgers (the current Japan club president) both hope song making will become a Japan club tradition.
Donahue, who met Kawane at a Japanese culture and community event in Charlottesville and has known her a few years, visited Kawane in Japan this summer and showed her the song. When Donahue asked her if she could come give another performance and workshop, Kawane insisted that the song she perform would be Japan club's theme song. Donahue said, "We feel honored to have her do this for our song."
During the event, Donahue and Rodgers sang "Room 174" live while Kawane gave her performance. Kawane, who rehearsed the song many times, worked on a large piece of canvas with a bowl of black ink and large brush. She completed her work with the ending of the song and it was filled with the Japanese symbols of the song's lyrics, making an intricate and wondrous piece of art.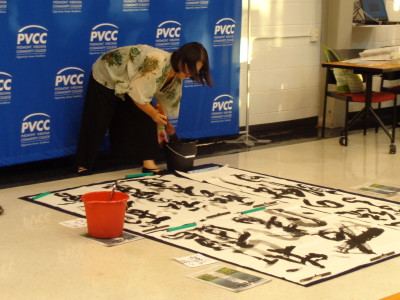 Afterwards, the workshop participants were given newspapers, paint brushes, bowls of ink, and a blank piece of rice paper accompanied by a paper inscribed with a Japanese symbol. Some of these symbols meant eternity, love, sunrise, star, or light. The workshoppers could then begin to draw, or practice drawing, the symbols as much as they pleased. During the workshop, Kawane and Donahue walked around the tables and gave advice, comments, and praise to the participants as they worked.
Near the end of the event, Donahue said, "She might never come back, so this is very precious."
You can learn more about Japan club and listen to "Room 174" at: https://www.pvcc.edu/ student-life/clubs/japan-club
Short URL: http://www.piedmontforum.com/?p=32448
Posted by
Charles Stish, assistant editor
on Oct 10 2017. Filed under
Arts & Entertainment
,
Clubs
,
Events
,
From the Forum
. You can follow any responses to this entry through the
RSS 2.0
. Both comments and pings are currently closed.