Beginning Ceramics With Tom Clarkson
MaKayla Grapperhaus, staff writer
At Piedmont Virginia Community College (PVCC), students have the unique opportunity to take a class that focuses on teaching the ancient art of ceramics. Professor of Art Tom Clarkson teaches ceramics courses at four different levels here at PVCC, including the first, Ceramics I. This class focuses on teaching beginning students a multitude of pottery skills and techniques, all of which are necessary for mastering the art of ceramics. Students enrolled in his class are introduced to hand building, wheel throwing, glazing, firing and much more.
Abbey, a PVCC student, is currently taking Clarkson's ceramics class to fulfill her humanities elective for the nursing program. For her, the art class has been a much needed break from the usual courses that nursing students are required to take. She said, "Working with the clay has been a very calming experience."
Art has always been important to Abbey, but since graduating from high school in 2015, she has not been able to explore her creative side as much, until now. She said, "The class has helped me to expand upon my creativity at a busy point in my life when I don't have a lot of time to focus on anything other than my studies."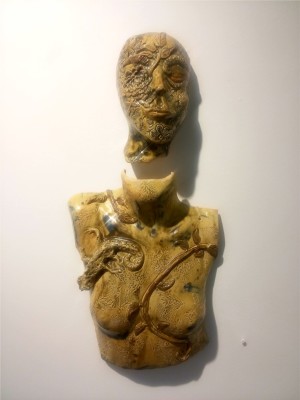 Watching Abbey work on one of her ceramics pieces during open ceramics lab, it was clear that she takes deep pride in her work. Keeping a detailed journal with her at all times, Abbey carefully sketches out design ideas on paper first and then brings them to life with clay. Throughout the molding process, Abbey records the many techniques she used on a single piece. Clarkson requires his students to keep a journal to plan ahead and to reflect back on past works.
One of Abbey's latest ceramic pieces is currently featured in the Annual Student Exhibition, along with many other pieces from Clarkson's students. Held in the Dickinson Building, artwork from PVCC ceramic students can be viewed from April 22 through August 3.
In their various shapes, sizes, and colors, these pieces of pottery showcase endless ways clay can be shaped to express an artist's creativity.
For those interested in learning the art of ceramics, Clarkson offers ART 153 – Ceramics I in both the summer and fall semesters.
Short URL: http://www.piedmontforum.com/?p=32263
Posted by
MaKayla Grapperhaus
on May 4 2017. Filed under
Campus News
,
Collegiate News
,
From the Forum
,
News
. You can follow any responses to this entry through the
RSS 2.0
. Both comments and pings are currently closed.