THE ASSOCIATED FEAR OF BEING A YOUNG WOMAN IN CHARLOTTESVILLE
The Hannah Graham case has really hit home since I am in Charlottesville practically everyday; I'm a student at PVCC and work at Urban Outfitters. It didn't really start to get to me until the surveillance videos of Hannah were released. It was disturbing to see a young girl stumbling and in a very vulnerable position, with a man following her. However, what is almost as disturbing, was seeing her walk past places, I walk past multiple times a week.
Last Friday, I was scheduled to work until close that night; sometimes we don't get out of the store until 11. One of the disadvantages of working on the downtown mall is there is no free parking. I usually park about half of a mile from where I work in an area where parking is free. When I close the store, I walk alone at night through the downtown mall in the exact areas the security videos captured footage of Hannah. I was sick last Friday, so I had to call in and was not able to work. If I had not been ill Friday, I would have gone to work, parked a half mile away, and walked by myself at night just a couple of hours before Hannah did in the exact same area as she was walking. Seeing the footage of her from that night made me stop and think, "Oh my God; that could've been me."
That's the thing about this case; it could be anyone. Yes, Hannah was more vulnerable because she was intoxicated, but Morgan Harrington wasn't, nor were the other three young women that have gone missing in this area. Charlottesville may be a small college town but it has become a dangerous place for women. I recently had to start carrying pepper spray on my key chain because of daily cat-calls and harassment I received from males here. One of the most vulgar things I have had someone say to me was here in town, almost a year ago. I was standing on a sidewalk downtown at around 9 or 10 at night, about to cross the street. A man in a car with a window rolled down passing by, shouted out the window at me saying "I wanna be yo' nasty nigga."
Even though I am not originally from Charlottesville, I consider this town my home. I should not have to fear for my life every day and I should not have to carry a weapon, like pepper spray, on me at all times just so I can feel safe in a town I call home. Neither should the other women in Charlottesville. So please everyone, I'm asking you as a community to come together to help make Charlottesville a safer place and bring Hannah Graham home.
If any of you have ANY information on the disappearance of Hannah Graham, or of the other three women who have still not been found Dashad Smith, Samantha Clarke, Alexis Murphy (even though the man who murdered Alexis was put behind bars, her body has never been found) and/or have information of the rape and murder of Morgan Harrington, I urge you to contact Charlottesville police (434) 977-9041 or Crime Stoppers (434) 977-4000!
Thanks for reading and stay safe.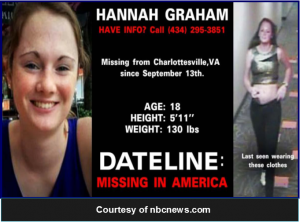 Short URL: http://www.piedmontforum.com/?p=23338
Posted by
Kelly Wilmer
on Oct 16 2014. Filed under
From the Forum
,
Opinion
. You can follow any responses to this entry through the
RSS 2.0
. Both comments and pings are currently closed.